The Antarctic VWs
Originally part of my book Knowing Australian Volkswagens (Bookworks, 1993), now much expanded and rewritten.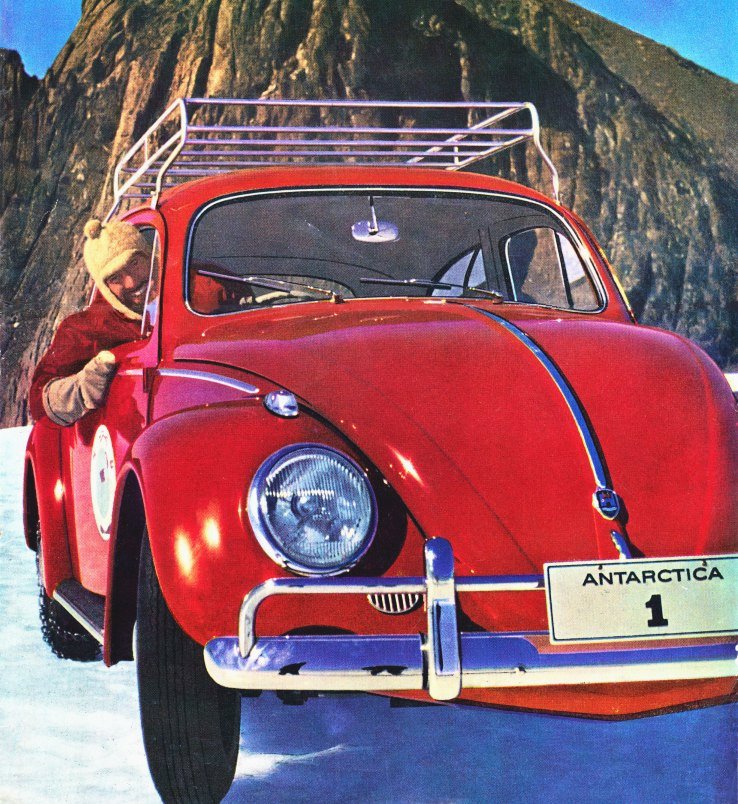 Australia has a proud history of exploration in Antarctica, the great frozen southern continent. Covering 14 million square kilometres and nearly all vast, frozen icecap thousands of metres thick, it is more than one and a half times bigger than Australia. It is the coldest place on earth.
Douglas Mawson, Edgeworth David and Alistair Mackay began Australia's long and active interest in Antarctica in 1907-09, when they were members of the Shackleton Nimrod Expedition. While the Aussies weren't on Shackleton's overland team that got to within 180 km of the South Pole, they were the first to reach the South Magnetic Pole, and also the first to climb Mt Erebus. Mawson led further expeditions in 1911-14 and 1929-31, and in 1933 the Australian Antarctic Territory was created when the former British claims in Antarctica were transferred to Australia. This territory, covering over 6 million square kilometres, comprises a large pizza slice of the continent between the 45ºE and 160ºE meridians of longitude, except for a narrow segment called Adelie Land controlled by the French. Various regions of the Australian Territory are known by different names, such as MacRobertson Land, King George V Land, Kemp Land and Princess Elizabeth Land.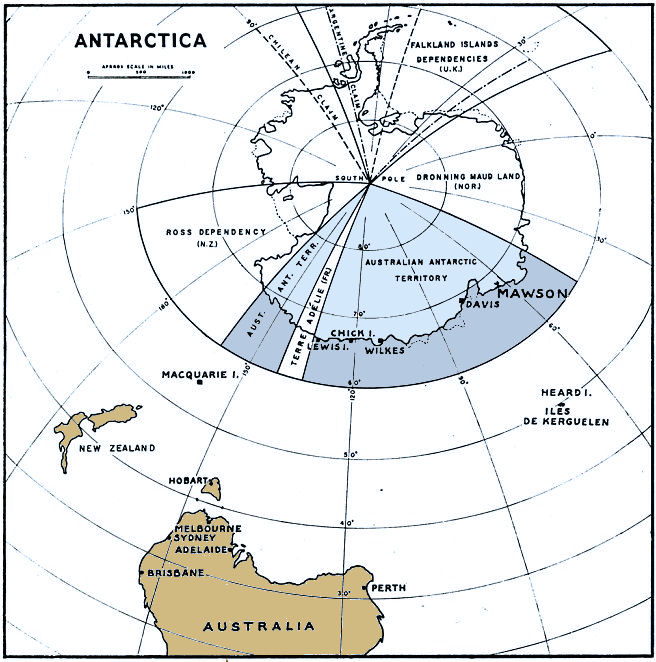 Australia maintains stations at Mawson, Casey and Davis on the coast of Antarctica, as well as on Macquarie Island, half-way to Antarctica below New Zealand. These bases were operated by a division of the federal Department of the Environment called the Australian National Antarctic Research Expeditions (ANARE). In the years since 2000 the ANARE name has fallen out of official use. The division is now called the AAD (Australian Antarctic Division), but the ANARE name is still used by personnel, past and present. Australians at the stations work alone and in cooperation with scientists and engineers from other countries on a variety of projects unique to the Antarctic continent. In contrast to the primitive conditions endured by the early explorers, the modern bases with prefabricated buildings and machinery offer security, comfort and sophisticated equipment for scientific work.
The Australian base on Macquarie Island is the oldest of these, first set up by Douglas Mawson in 1911 as a radio relay station, and becoming ANARE's first scientific base in 1948. Davis was set up in 1957 in the relatively ice-free Vestfold Hills, near the mouth of the colossal Lambert Glacier, the world's biggest. Casey station was built in 1969 in Wilkes Land to replace a nearby 1957 US base called Wilkes, which Australia had inherited in 1959 from the Americans. Australia's largest base is Mawson, further west in MacRobertson Land, which was established in 1954 and is the oldest continually occupied base in Antarctica.
Motorised over-snow transport is commonplace today in Antarctica, especially in the big US base at McMurdo with hundreds of winterised US trucks, tractors, 4x4s, SUVs and vans in use today. In the earliest days the explorers relied on dogs, horses and ponies for transport, with some trying their hand with primitive motor tractors. But in the early 1960s VW Australasia claimed to have sent 'the first production car' to the frozen continent.
Ernest Shackleton's 1907 expedition included an Arrol-Johnston 15-hp four-cylinder vehicle, which could possibly be called a 'passenger car'. It was an open two-seater with a utility trayback, and fitted with skis under the wooden front wheels. It proved perfectly useless, since the heavy vehicle became constantly bogged to the axles in the fine snow.
According to an article published in Autocar in October 1907, "Shackleton, the Commander of the British Antarctic Expedition, had provided himself with a real live motor car with which he hopes to reach his goal and hoist the Union Jack." That may have involved some poetic licence, but Shackleton must have been disappointed nonetheless. He relied on dog teams to get within a week's march of the South Pole before being forced to turn back.
The Christchurch City Council Museum in New Zealand has another Arrol-Johnston machine, an air-cooled 1500cc twin-cylinder purpose-built device with a plywood body. It has a 70cm-wide roller at the rear for propulsion, and skis instead of front wheels. This contrivance accompanied a later Shackleton expedition, and probably evolved in light of experience with the original vehicle. Similarly, Scott's ill-fated expedition to the South Pole in 1911 involved two large motor tractors with tank tracks to haul supplies, but both failed after a couple of days on the Ross Ice Shelf.
The next 'passenger car' to visit Antarctica was a Baby Austin 7 which travelled down with Sir Hubert Wilkins in 1927, and was apparently used for transportation of supplies from depot to depot. But apart from the odd mention in Wilkins' biography, little is known about the Austin, what modifications were done to it or where it ended up. No photos of it exist.
Antarctica 1
In 1962, ANARE was looking for cheap motorised transportation to complement the heavy tracked vehicles at Mawson on the lonely, windswept coast of MacRobertson Land, 150km south of the Antarctic Circle. Transport at Mawson was normally provided by tracked vehicles, dog sleighs and motorbikes. But all these had their limits. The motorbikes could only transport small loads. The tractors could run at a maximum speed of 5 km/h and used too much fuel. The dog teams needed to have been in harness for a long time, required continual care and could only be managed by someone experienced in their handling.
In November 1962, the incoming 1963 Expedition leader was a young engineering draughtsman named Ray McMahon. While he was making preparations at ANARE HO in Melbourne, he read that there were a couple of water-cooled vehicles at Mawson; a Ferguson tractor and a flat topped Bedford truck. He reckoned if they were being used successfully around the station, then why wouldn't an air cooled VW be suitable for some "around the station" functions? Using his initiative, he picked up the phone and rang the marketing office of Volkswagen Australasia at Clayton. Ray spoke with a cadet marketing person by the name of Graham Massingham. Ray asked him if VWA would be cooperative and loan ANARE a VW to take to Mawson for the year.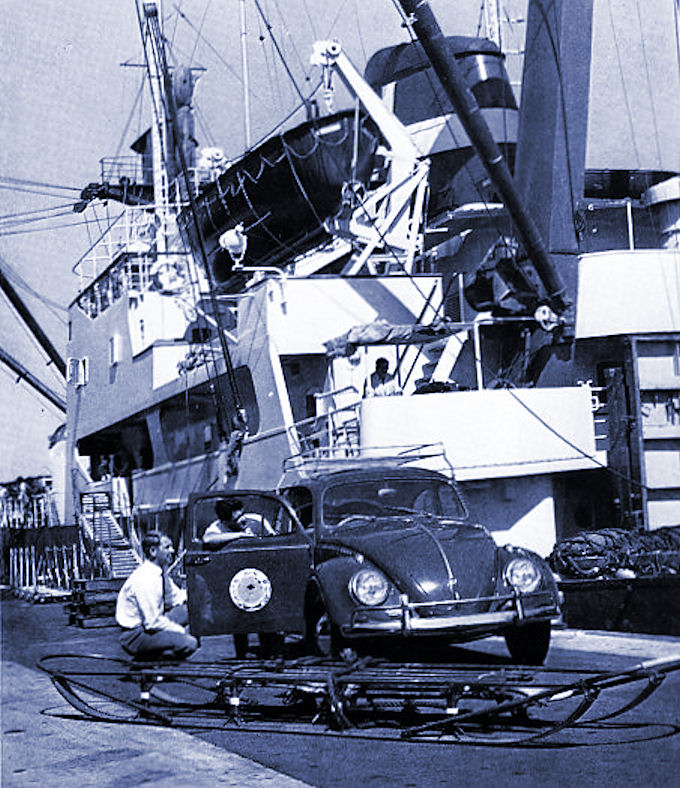 It just so happened that the Volkswagenwerk HO in Germany had recently been encouraging their subsidiaries around the world to concentrate their marketing efforts on publicising VW service in Arctic conditions. This included Australia (!) Young Graham scored the promotional coup of his life, and the opportunity to send a VW to Mawson was enthusiastically welcomed by his superiors.
Ray was invited to Clayton, and an Australian-made Ruby-Red 1962½ model Beetle was selected at random from a batch made in December 1962. The Ruby Red colour was chosen so the car would stand out from the snowscape. Antarctic supply ships are painted red for the same reason.
The Clayton Service Workshop then gave the Beetle thorough 'winterising', a northern European process unknown in hot Australia. The engine was rebuilt with special European 'winter' quality crankshaft bearings for extreme service low-temperature conditions, such as those in Norway and Finland. The exhaust manifolds were wrapped in asbestos insulation to assist initial warm-up. The front wheel bearings and torsion bars were lubricated with winter-spec lithium grease. The VW was fitted with a pair of heavy-duty six-volt batteries in series, so that starting could be achieved at 12 volts through the 6-volt starter motor, but the rest of the electrical system remained 6-volt. The batteries were wrapped in wool felt, and a clip-on aluminium blanking plate was fitted over the air intakes to keep out the drift snow when parked. An ammeter and oil pressure gauge were fitted to the dashboard, in the speaker panel to the right of the steering wheel. Dunlop Wintertread tyres were fitted to the rear (the front tyres remained stock cross-plies), and a full set of snow chains was included with the spares. A rear tow bar and sump guard were fitted, and a factory storage rack was bolted to the roof.
Initially VWA filled the engine with BP 10W/30 Winter Multigrade oil, but it later proved too thick and heavy for Antarctic conditions so the Mawson mechanics got hold of some 5-ZZ, which was described as being about as viscous as kerosene. The VW engine suffered no harm in regular service in Antarctica when lubricated with this water-like oil.
Official VW preparation was very thorough. The car was delivered with a box of general spare parts and spare wheels, as well as a quality Bolex cine camera with a generous stock of movie film. Large ANARE labels were painted on the doors, and special aluminium 'ANTARCTICA 1' number plates were made and mounted front and rear. Volkswagen Australasia covered the costs of the vehicle and all spares and modifications. There was no cost to ANARE.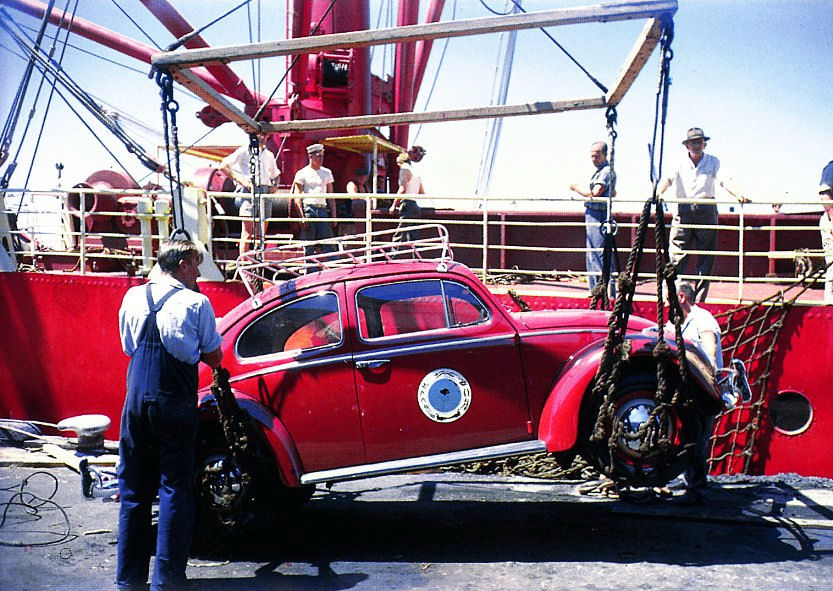 After collection and inspection by Ray McMahon, the VW was loaded aboard the supply ship 'Nella Dan' at Port Melbourne, and shipped 6,100 km south to Mawson. It was unloaded with the normal year's supplies to the base in January 1963, one of the first items to be loaded ashore. The engineers filled the petrol tank with BP winter-grade petrol, which proved perfectly suitable for the local conditions.
The VW underwent some initial trial runs, including a 35-km round-trip to the inland Rumdoodle airstrip up on the ice plateau. The VW made the run in 65 minutes, a near record. There is a very steep snow slope behind Mawson, which must be climbed to reach the plateau. Many doubters – including even the Captain of the Nella Dan – bet Ray McMahon that the Volkswagen wouldn't make it under its own power. It did.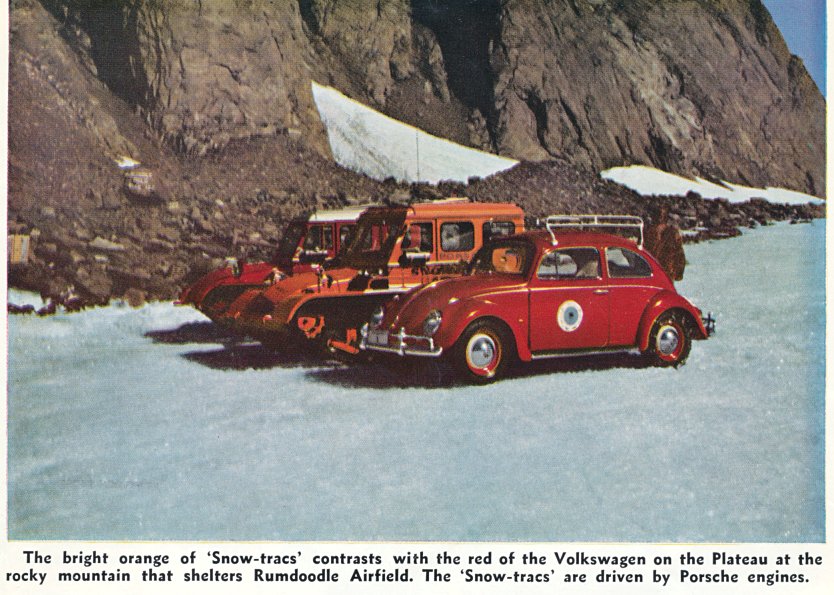 ANARE official photographer Geoff Merrill took a number of photos of the VW at Mawson, at the airstrip at Rumdoodle, and in several stunning nearby locations that showed the beauty of the Antarctic area (with the VW in the frame). He also shot the first 500 feet of movie film. These were loaded on the Nella Dan, which departed Mawson at the end of February and returned to Hobart. These first photos caused a sensation, and were used in a string of VW ads and promotions. More photos would have to wait until the Nella Dan returned the following summer.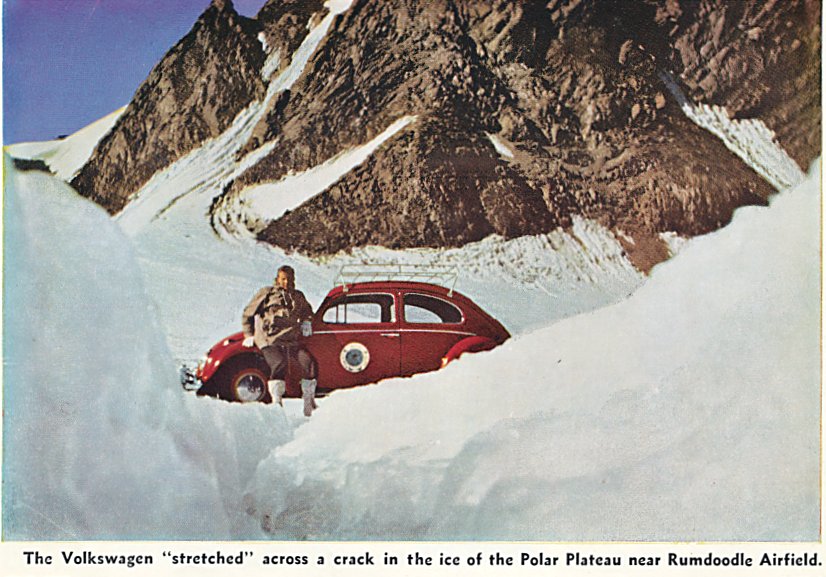 The VW would spend a whole year at Mawson, competing with dog teams, Polaris medium over snow vehicles and larger tracked vehicles such as the Weasels, Caterpillars and Porsche 356-engined Snowtracs. Subjected to smothering snows, bitter cold down to –50 deg C and knifing 200 km/h winds, it turned out to be excellent for running around the station and short traverses of the ice-bound country. It even went up snow-covered hills which were difficult to climb on foot because of the sinking snow. Being air-cooled it never froze, and being tightly sealed it was immune from drifting powder snow which at Mawson was so fine that it could blow through pin holes.
Scientists soon fell in love with the VW and christened it their 'Red Terror', but it was officially known as Antarctica 1. VW Australia proudly called it "the first production car to visit Antarctica". It was used for a multitude of purposes and within its limitations proved extremely useful, according to ANARE people who used it. With snow chains on all four wheels, it could be used for everything from transporting supplies out to field teams, to towing skiers around the base, to taxiing VIPs to and from the airfield at Rumdoodle, to driving glaciologists three or four kilometres out onto the sea ice to test its thickness.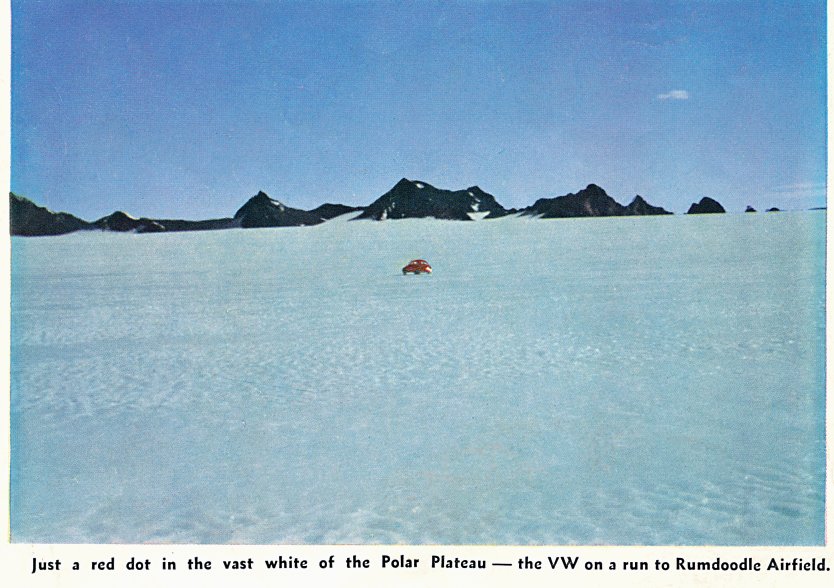 Accounts of these excursions describe winds "up to 100mph" which more than once turned the doors inside out, overriding the door check rods and folding the doors flat against the front hub caps. Door hinges took the brunt of this trauma, but the mechanics said they were very forgiving and straightened out OK. Ken Shennan, who was a member of the 1963 expedition, remembers that Antarctica 1 would start under its own power at temperatures as low as –40 deg C.
The cine camera was used to make a fascinating short general interest 16mm film called Antarctica 1, which became much loved by schools and clubs in Australia and around the world. There is an original 16mm copy in the National Library of Australia's collection. A shorter edited version called Taxi to Rumdoodle was also released, and narrated by well-known Sydney TV newsreader Roger Climpson. That one isn't yet on YouTube, but there is DVD copy in the Club Veedub Sydney library.
Ray McMahon sent a regular monthly radio telegram back to Melbourne, detailing Antarctica 1's progress. The bases were far more isolated in 1963 than today as it as long before the internet, satellites, optic fibre and mobile telephones. Long-wave voice radio was unreliable due to interference from the nearby south magnetic pole. Short-wave radio did not have the necessary range. Morse code transmissions could however be sent satisfactorily by long-wave radio to the ANARE office in Hobart.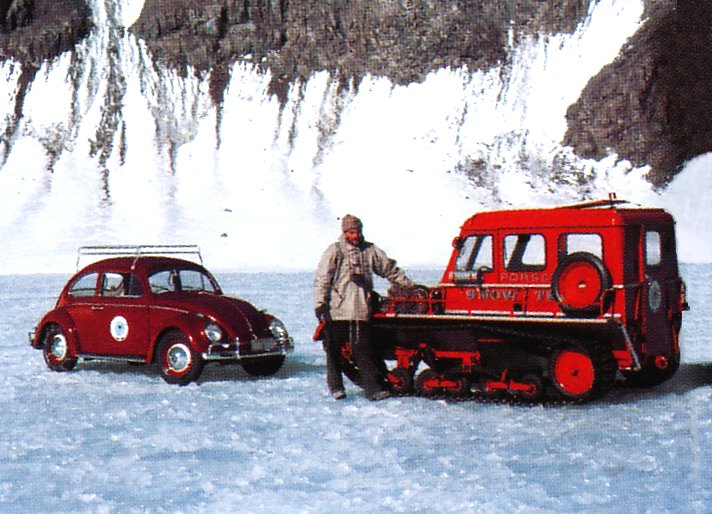 After the first trip to Rumdoodle airfield, Ray McMahon's cable from Mawson indicated his delight at this initial performance:
"HAVE PLEASURE STATING DROVE VOLKSWAGEN TO RUMDOODLE. PERFORMANCE EXCELLENT. INDEED HAPPY MOTORING. McMAHON"
The second operation report showed just what the car could do. It read:
"TO DATE 130 TROUBLE FREE MILES HAVE BEEN RECORDED OF PLATEAU DRIVING, USING REGULAR MOTOR SPIRIT AND REAR WHEEL CHAINS.
"APART FROM PLEASURE DRIVING TO RUMDOODLE THE VW WAS USED TO TOW LOADED SLEDGE WEIGHING APPROX. 450 POUNDS (205 kg) TO MT. HENDERSON FOR BIOLOGICAL SURVEY TEAM, REASON BEING TO SAVE TIME THROUGH NOT HAVING TO DRIVE DOG TEAMS UP ICE SLOPES, ETC. NO PROBLEMS ENCOUNTERED WITH THE EXCEPTION OF NEEDING CHAINS ON FRONT WHEELS TO OBTAIN BETTER STEERAGE ICE SLOPES.
"VW ALSO USED AS SCOUT CAR TO SEEK ROUTE AND ESCORT TRACTOR TRAIN TO FISCHER NUNATAK (A ROCKY MOUNTAIN TOR STICKING THROUGH THE PLATEAU) WHERE GLACIOLOGY FIELD PARTY WILL BE OPERATING FROM.
"ON THIS TRIP ICE SLOPES, SNOW FIELDS AND CREVASSED HILLS WERE ENCOUNTERED BUT NO WORRY TO THE 'RED TERROR'. THE FINAL APPROACH TO FISCHER IS A VERY STEEP SNOW SLOPE WHICH WAS TOUGH GOING DUE TO SINKING INTO THE SNOW, BUT VW MADE IT TO THE TOP.
"I AM MORE THAN PLEASED WITH ITS PERFORMANCE AND THE USE IT CAN BE PUT TO. ANYWAY, WINTER IS APPROACHING AND THEN WE WILL SEE HOW IT GOES. REGARDS, McMAHON"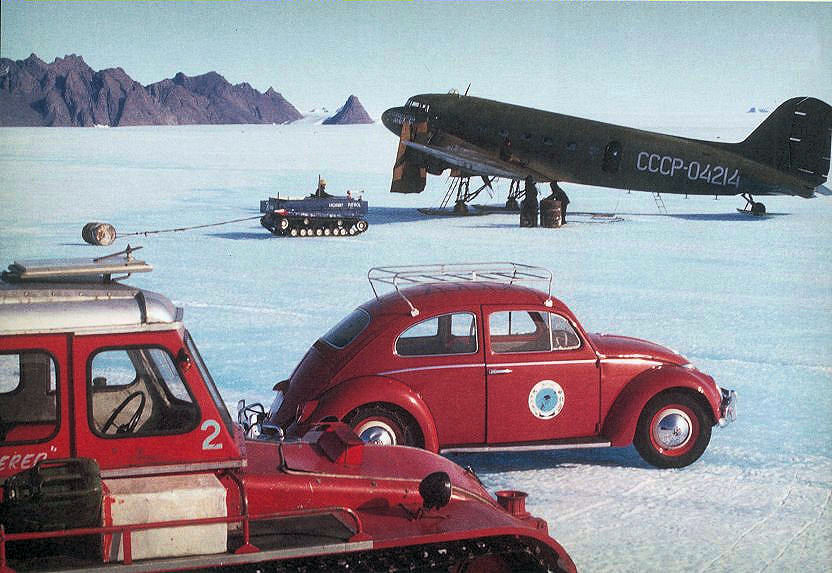 The latest cable before the winter night closure read:
"RECENTLY RETURNED JOURNEY INTERIOR. SEA ICE NOW FORMING. POSSIBILITY OF FURTHER USE FOR VW. PRIOR MY DEPARTURE FIELD TRIP VW USED AS TAXI TO TRANSPORT VISITING RUSSIAN EXPEDITION BETWEEN RUMDOODLE AIRFIELD AND MAWSON.
"APART FROM FEW DENTS DUE NEGOTIATING ICE SLOTS VW MECHANICALLY A1. NO TROUBLE COLD STARTING EVEN THOUGH ENGINE NOT DRIFT (SNOW) PROOF. REGARDS, McMAHON."
An excellent report on the Volkswagen appeared in ANARE's journal, Aurora, for June 1964:
Antarctica 1…How Did It Go Down There?
No doubt you've read and heard a lot about the Volkswagen that was taken down to Mawson in 1963; well, here is a first-hand account on what it did during its tour of duty in Antarctica. First of all, it didn't take the place of any tracked vehicles, but it certainly filled the gap between walking and driving the Snowtrac. The furthest distance the VW travelled in any one direction was about 20 kilometres, but over the twelve months it covered a total of about 2100 km.
To start with, there were a few bets made that the car wouldn't negotiate the ice slope behind the station, but this was quickly disproved when the car, fitted with chains to the rear wheels, made the distance to GWAM without any worry. With this minor horror stretch conquered, it was then taken through to the mountain across the slotted ice and snowfields. A wheeled vehicle driven across this sort of terrain can get into a lot of strife, but it was found that with a bit of speed under its belt, these dangers were eliminated (sometimes). The VW now holds the unofficial record for the best time from Rumdoodle to Mawson, a time of 50 minutes for the 20 km run, and MAN! That suspension sure was working overtime! Now maybe that's how the frame-head stress came about?
In the early part of the year, the VW was put into active service in towing a loaded dog sledge up to Rumdoodle to assist a field party in saving them the worry of driving and hauling the dogs up the icy slope. It made a run up to Fischer Nunatak, and surprised everyone when it made the steep snow under its own steam. Whenever a Russian transport aircraft visited the station, the VW put up its TAXI sign and scooted up to the airfield to assist in transporting the visitors back to the station. At times it was quite fortunate that it had 3 or 4 heavy Russkies for passengers, as not all the snowfields could be avoided. And when it did sink down to its belly plate in the soft snow, it was an easy matter to lift the car clear of the bog up onto more solid snow.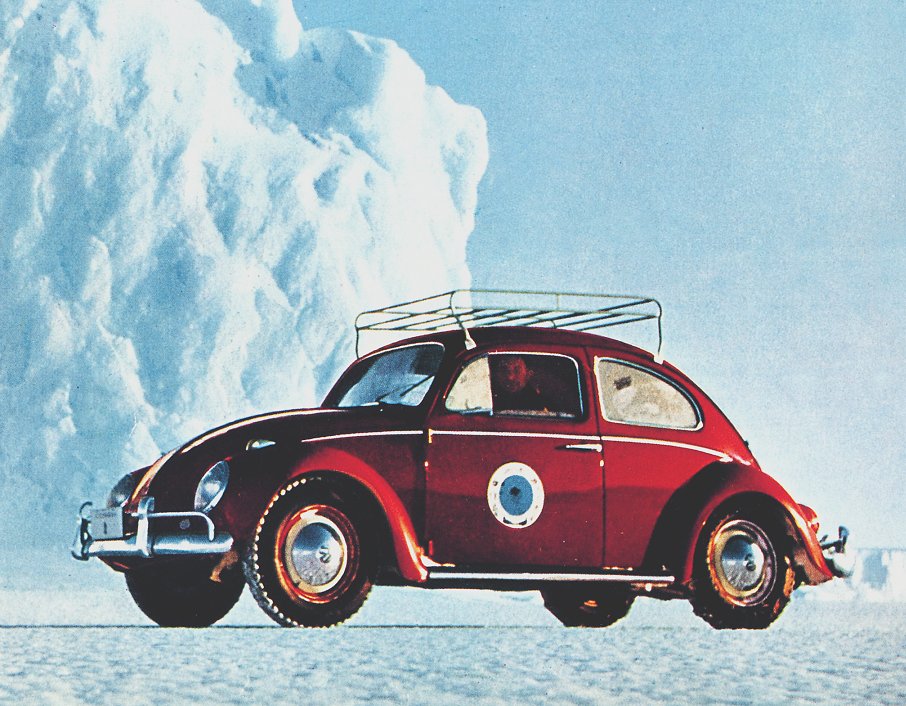 When the sea ice formed, the VW was used for many forms of recreation, from a pleasant Sunday afternoon drive around the islands, to being used in towing ardent skiers around the harbour at rather hair-raising speeds. Many's the time, though, one could see the shovels being wielded when it was found the car didn't quite make it through a snow drift.
Our devoted glaciologist found the VW very useful, especially when he wanted to run out to his hole in the ice off the West Arm, where he was carrying out regular studies on the growth of the sea ice, etc. The VW was used for other scientific work, such as checking the ice accumulation stake line between the station and the mountains, for driving from stake to stake proved much faster than in the tracked snow vehicles. But it certainly played havoc with the nerves of the passengers as the fearless driver slot-hopped around the ice domes.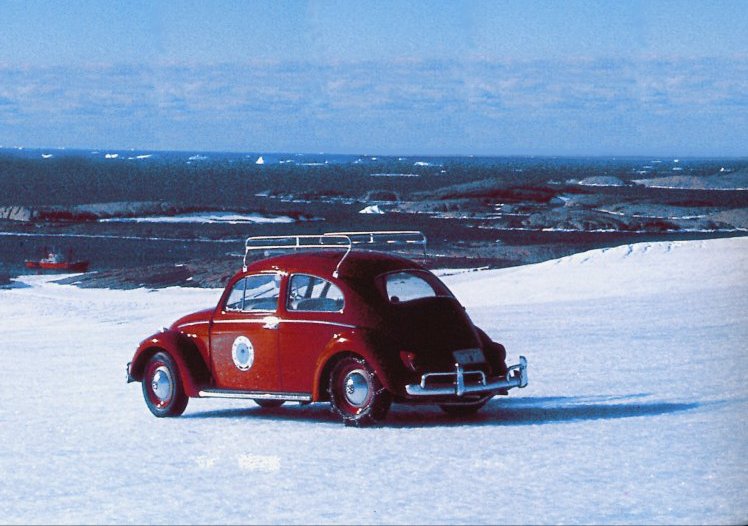 Apart from a bit of electric welding needed in repairing a section of the front axle mount that had been severely weakened by the type of terrain it was subjected to, and the replacement of the front 'shockers' which had given up the ghost for the same reason, the VW gave very good service with a minimum of worry to the mechanical section who only had to service it and feed it petrol regularly. On the whole, the car gave the 1963 team at Mawson good service as 'The Second Car'.
Publicity from the Antarctica 1 experience extended around the globe, and was used by VW for advertising and promotional material in many parts of the world; even in the giant US market where VW was selling twenty times more cars than in Australia. "First car in Antarctica" was the headline of one ad; "First car at the bottom of the world" was another. Sometimes the ads posed questions; "Guess what happened To Antarctica 1?", "Which one is the snow-trac?", "What car has the world's most unusual numberplate?, and "What car broke the ice in Antarctica?" The effect of the VW publicity was such that when a party of American scientists visited Mawson in 1969, they admitted to the Australians that if it weren't for the Volkswagen ads they would never have known that Australia maintained scientific bases there!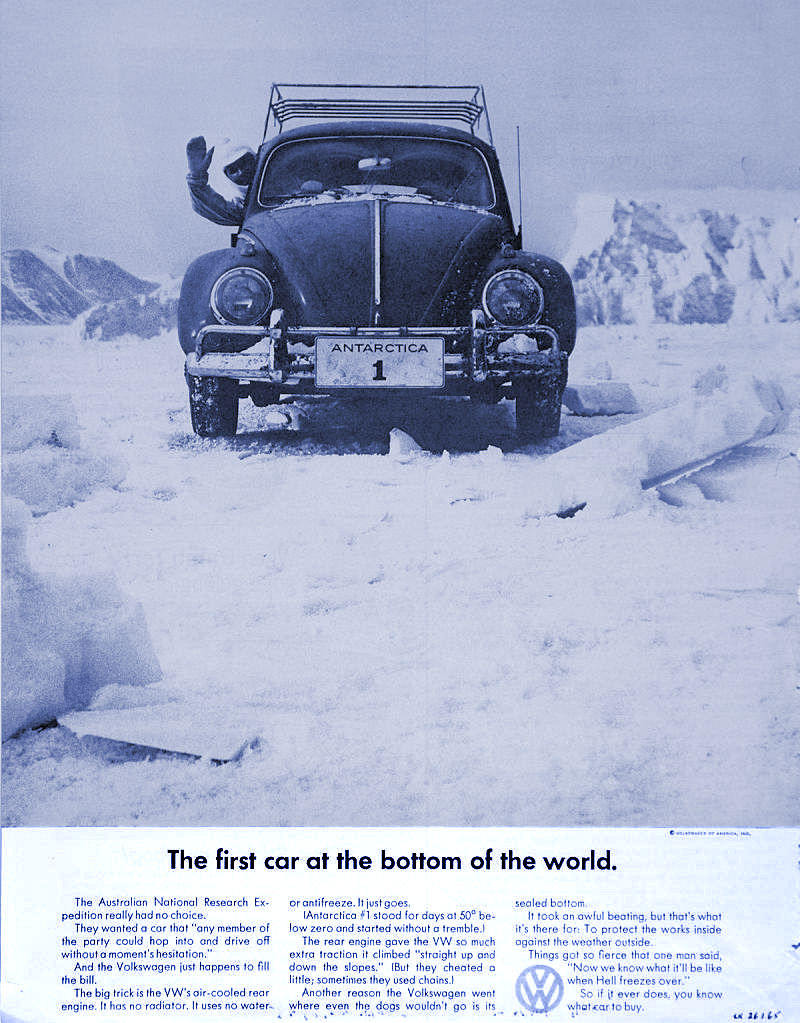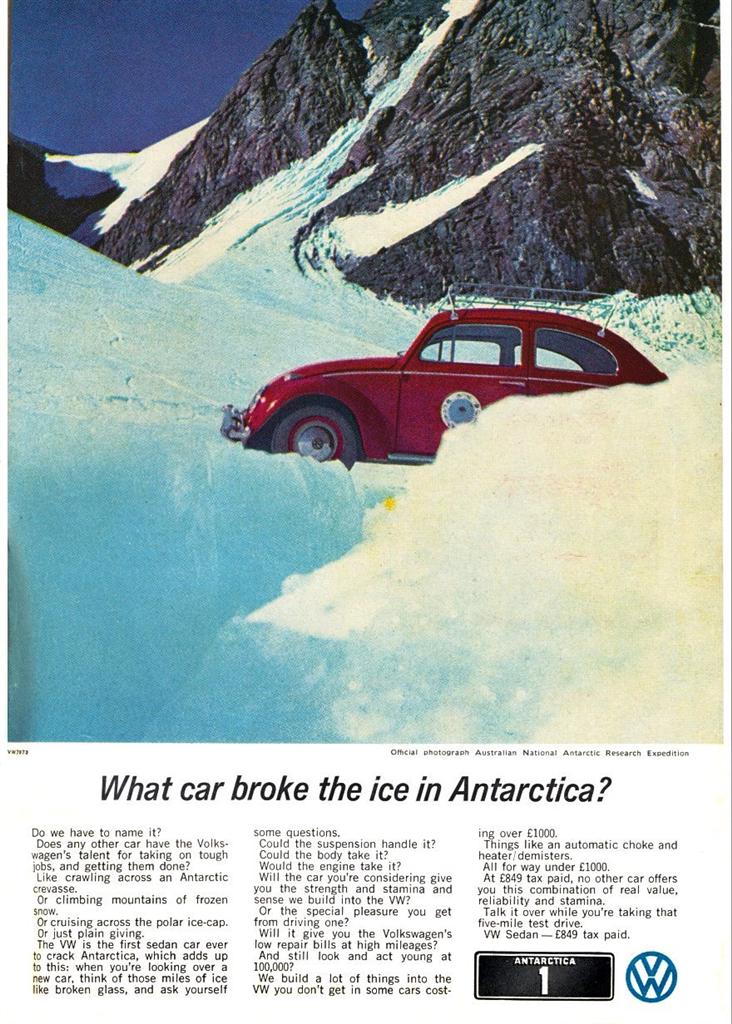 While Antarctica 1 performed admirably, the brutal treatment it received over its year in the ice did reveal one major weakness. This was the chassis frame head, where the two transverse front suspension tubes mounted to the frame. Although it's not exactly an unknown weakness in VW Beetle construction, it almost never showed up in a lifetime of normal use for most cars. In severe service though, years of high mileage on rough outback roads might bring it on, or two weeks and ten thousand miles of punishment in a reliability trial. Laurie Whitehead nearly lost the 1955 Redex as result of cracking of the frame head, although he had hit many large rocks along the way.
In Antarctica the cracking could be induced in only a few hundred miles, thanks to the punishing conditions and extremely low temperatures. Antarctica 1 suffered frame head cracking only a month or two after it arrived, thanks to assorted heavy hands and leaden feet. Then again, on washboard-like corrugated ice thousands of years old, and driving over ice cracks ten or twenty centimetres across and bottoming the suspension constantly under full loads of men and equipment in temperatures dozens of degrees below zero, what wouldn't fail in such conditions? The Mawson mechanical workshops soon learnt to diagnose the problem and were always on hand for a welding repair job. In this famous publicity shot, if you look closely you can see that the front bumper and mudguard have been bent backwards.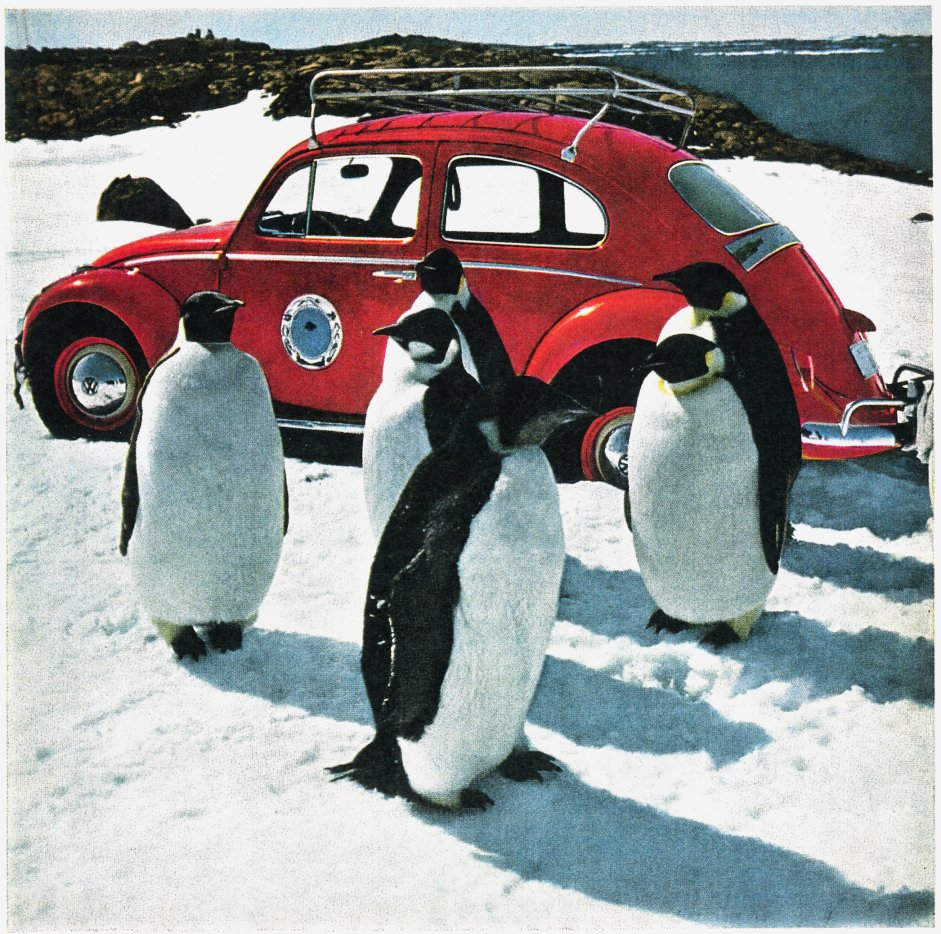 When the 1963 Expedition year finished, the team was relieved in February 1964 by the next Expedition arriving on the same little red ship, 'Nella Dan'. They brought with them Antarctica 1's replacement – another Volkswagen called Antarctica 2. The newer car was also an Australian-made Beetle, this time a brand new 1963 model painted International Orange, rather than ruby red. It was fitted out in the same winterised manner as the older Antarctica 1, complete with similar ANARE labels on the doors and special 'Antarctica 2' number plates. It also had the benefit of additional bracing of the front axle to reduce the frame head problem. The orange car was unloaded at Mawson to begin its term of service, and briefly the two Antarctic VWs stood side by side at the docks for the first and only time. Then the red Antarctica 1 was loaded onto the 'Nella Dan' for return to Australia after its year in the Antarctic, along with the members of the 1963 expedition returning home.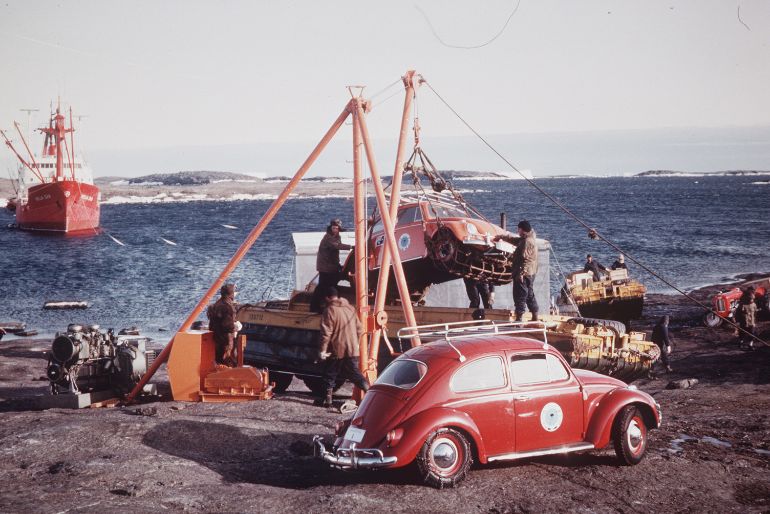 The ship berthed at Hobart in February 1964, where the men disembarked while the VW stayed on board. They were met by representatives of Volkswagen Australasia, who threw them a welcome party at Hadley's Hotel.
The Nella Dan then continued on to Fremantle in Western Australia, where Antarctica 1 was unloaded and met by the WA VW distributors and representatives of the BP petrol company. Frank Smith had been Plant Officer of the 1963 Expedition and was responsible for all vehicles and machinery, and he accompanied the VW back to Australia. Frank had to 'pull rank' on the BP promotions men, who wanted to take over the red VW and drive it around for publicity action shots. He refused to allow them access other than to the static vehicle, as it was still 'winterised' with blanked off air intakes and extremely light engine oil. The temperature in Fremantle can be over 35 deg C in summer, and Frank insisted any attempt to run the VW would lead to mechanical damage.
The Nella Dan was restocked and went back to Antarctica, while the VW was shipped to Melbourne. Antarctica 1 was de-winterised and used by VW for promotional visits and displays in dealerships around the main Victorian cities and towns for several months.
Ken Shennan was a member of the 1963 Expedition, and when his duty was over he happened to visit Seymour in Victoria, about 100km north of Melbourne, when Antarctica 1 was on display at the local VW dealer, Progressive Motors. He was especially interested in the condition of the chassis frame head, as he had done some of the welding repairs down at Mawson. He lay down and crawled under the VW's nose "for a feel and a stickybeak". Imagine his mystification on discovering that everything was factory fresh again! Ken asked the VW representatives if anything had been substituted, and was assured the VW was quite untouched since returning from Antarctica shortly before. Hmm! Ken knew perfectly well that either the bulkhead had been cut off and replaced, or the entire chassis exchanged for new.
Ray McMahon also recalls seeing Antarctica 1 on display in Melbourne, in a dealership on City Road in South Melbourne. That would have been Spencer Motors, the main Melbourne VW dealer, who had a large VW showroom at 63 Cecil St in the 1960s.
The story of Antarctica 1 doesn't end there. After the VW Australasia promotional tour, the car was handed over to the BP Rally organisation. It was prepared and entered in the 1964 BP Rally of south-eastern Australia, under the control of driver Ray Christie and navigator Joe Dunlop. It was entered against 42 other competitors in the rough-road 3,500 km event, including a dozen other Volkswagens. All leading car manufacturers were represented.
Unbelievably, the Christie and Dunlop Beetle, still carrying its 'ANTARCTICA 1' number plate, won first place outright beating all comers. It still had its Ruby Red paintwork and the ANARE logos on the doors, together with green and yellow 'BP Rally' decals and its number, 32. It was also now road-registered with Victorian plates HZB-624. It was a stunned and delighted crowd that saw the finish of the rally in Melbourne in May 1964, less than three months after returning from a year in Antarctica. Volkswagen had done it again.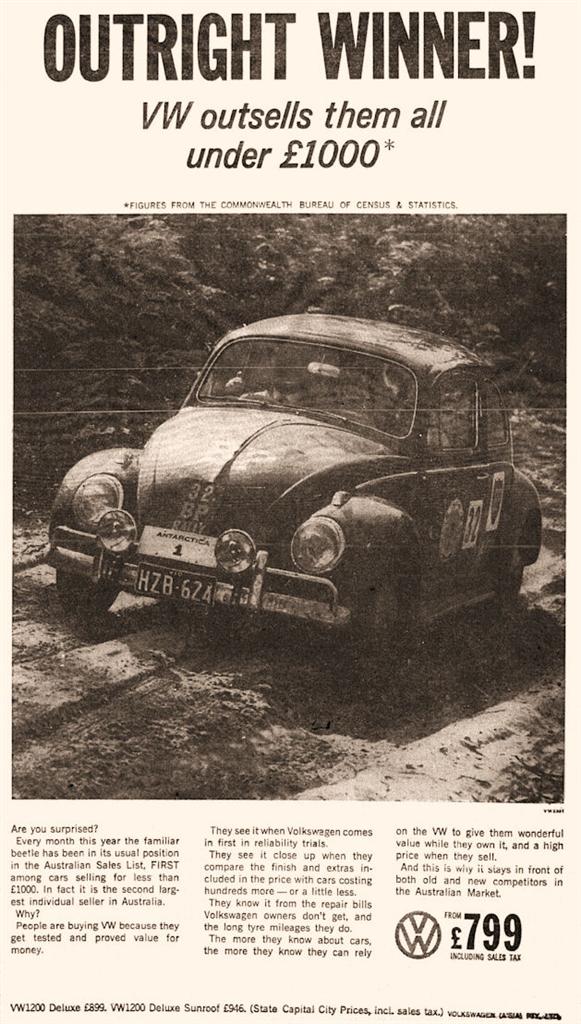 "How tough can a car be?" asked VW in their new series of ads that celebrated the stunning achievement. "If it's a Volkswagen, it can take 12 shuddering months of Antarctic ice, then win one of the toughest trials in Australia. This one did, because the harder the going the less chance other cars have of matching the Volkswagen's toughness and reliability.
"And what do trials wins prove? Simply this: a car that can win when the going is really hard must give you a lot more miles of easy driving, smaller maintenance and repair bills, and more of your money back when you trade. From £799, including tax, doesn't a VW make sense?"
After the wonderful performance of Antarctica 1 during its year in the ice, many of the 1963 Expedition members became Volkswagen converts, as you might expect. On their return to Melbourne in 1964, 24 of the scientists and engineers put themselves forward in a concerted approach to Volkswagen Australasia for a 'fleet-owner's discount'. Sadly the VW sales organisation turned them down.
The men down at Mawson in 1964 heard that their old VW had won the BP Rally, and they paid tribute to it with the following comment in their ANARE Club journal, 'Aurora':
"It is with pleasure we report that Antarctica 1 was declared outright winner in the 1964 BP Rally; it is fitting, therefore, to add our congratulations to Antarctica 1, and to the men who tended her during the long, cold dark night."
Can it be just a coincidence that Volkswagen's highest-ever sales year in Australia during the air-cooled era (22,293 Beetles and 31,419 VWs altogether) was 1964 - the year that Antarctica 1 returned from a year at Mawson, and went on to win the BP Rally? Certainly Volkswagen's local profile had never been higher, and the car was a celebrity. It was again displayed at a number of VW agencies, initially around Melbourne and then in country Victoria. It was usually placed outside in the dealership lot facing the road, with an information placard mounted on the windscreen. It was also often parked on display at various BP service stations; BP was of course the sponsor of the 1964 Rally.
The famous ruby red Beetle sat fading for several years, a little worse for wear, but as the years went by it was slowly forgotten. Newer, faster cars such as the Ford Cortina GT and Mini Cooper S were now winning the big rallies and the Bathurst 500 enduro, and no one cared about an old faded VW sitting outside a small VW agency somewhere in country Victoria. At some point, perhaps two or three years after its glory days, it just disappeared.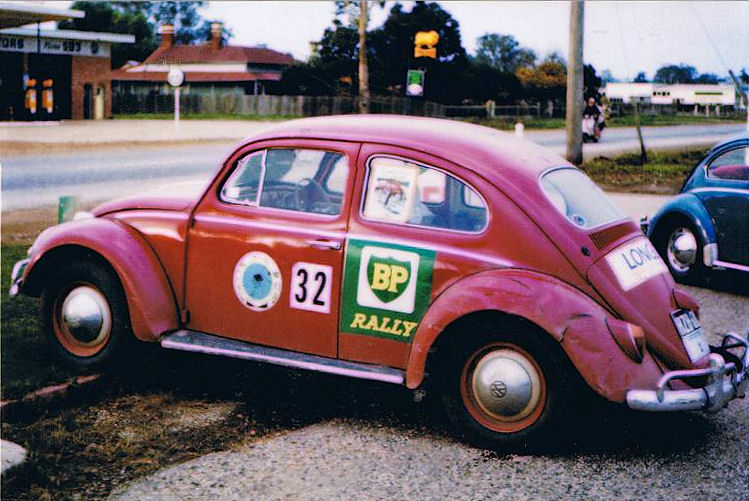 A number of older Victorians can remember seeing the car on display in Seymour about 1966, but no one can recall exactly what happened to it. The period shot above shows the car sitting in the lot of the BP North Seymour petrol station on Emily St at that time, and you can also see the VW dealership across the road shared with a Golden Fleece petrol station. The VW's location has been taken over by a widened road today, with the BP now a new Mitsubishi dealership. The former VW dealer across the road at no. 70 is now a Nissan/Subaru dealer. The house next door with the twin chimneys is still there.
All attempts to track this car down today have been unsuccessful. No one can establish where it was last seen, or who owned it. It would have been too bent and worn to sell as a used car. There has also been no luck in tracing its Victorian plates, HZB-624, with the motor traffic authority in Victoria, as records of that era were disposed of in the 1980s. No one knows if the old red VW still exists somewhere. In all probably it was stripped for parts and junked; maybe it ended up on a farm; perhaps it lies rotting in a barn somewhere, waiting to be found. No one knows.
The oldest staff at today's Progessive Motors Nissan, across the road on the site of the Golden Fleece, do not recall seeing the Antarctic VW. However there is anecdotal evidence that when the site was redeveloped in the 1970s a number of old VWs were bulldozed and buried on site. It's possible that Antarctica 1 was one of them and now lies crushed and buried somewhere under the Nissan dealership. Who knows?
In retrospect, Ray McMahon believes he should have been more assertive in gaining possession of Antarctica 1 at the time, on the understanding of the incredible publicity and sales that he and his men provided VWA with over the 1963-64 period. But he was too innocent a young man in business negotiations in those days. If he had, Antarctica 1 may have survived to the present day.
In 2002 Sydney VW enthusiasts Bill Moore and Steve Muller made a serious detective effort and tried for months to find out what happened to Antarctica 1. Bill had much experience in researching the VW Country Buggy, and had even tracked one down that had the legendary power take-off. Bill visited Seymour and spoke with the Nissan dealer and as many 'old-timers' as he could find. But his all travels, enquiries and searches came up empty, with all Antarctica 1 leads long gone cold. Instead, they found another 1962½ Beetle that had been built the very same month as the original, and so decided to build an exact replica.
They contacted and consulted a retired Ray McMahon for help, and he was happy to share exact details of the original car and share his slide photos and many stories. The car was stripped down and restored, sprayed Ruby Red and then rebuilt as Antarctica 1, complete with period accessories and recreated ANARE decals. It was an extremely good replica, with most of the original details recreated. The only obvious difference is the '1' on the remade aluminium number plate – the font is different from the original, although similar to some that appeared in period advertisements.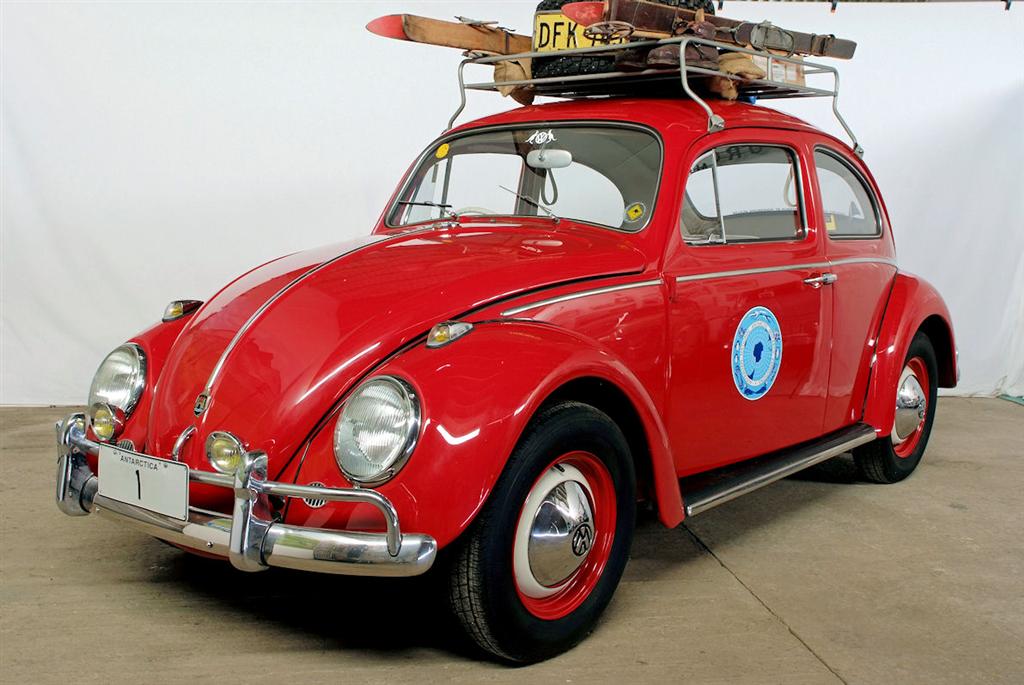 The replica received some good press in Sydney, then was shipped to Germany in 2003 for an appearance at the famous Bad Camberg VW show, and a tour of the Wolfsburg VW factory. After some promotional appearances, it was sold to a German collector with connections to the Wolfsburg Autostadt museum. Steve and Bill also presented the VW archives with Australian Antarctica 1 literature, period photos and a copy of the 16mm movie shot at Mawson. The replica remains in Germany, and is available for display at the VW museum.
Read more about the Antarctica 1 replica here.
Antarctica 2 and 3
While the first red VW spent a year in Antarctica before returning to Australia, the orange car(s) were based at Mawson for five years, 1964 and 1966 to 1969. Antarctica 2 was put to the same tasks as the first car and performed equally as well, perhaps even better due to the extra bracing of the frame head. It was fitted with the VW factory-produced front suspension support kit, which were extra struts mounted between the outer torsion bar tubes and the corners of the floor. The VW part number of these is 111 498 001 for link-pin front ends and 111 498 001A for ball joint. These were later fitted as standard to the Australian-designed and built VW Country Buggy. Antarctica 2 did not have strengthening fitted on the longer of the steering track rods, as VW rally drivers sometimes did.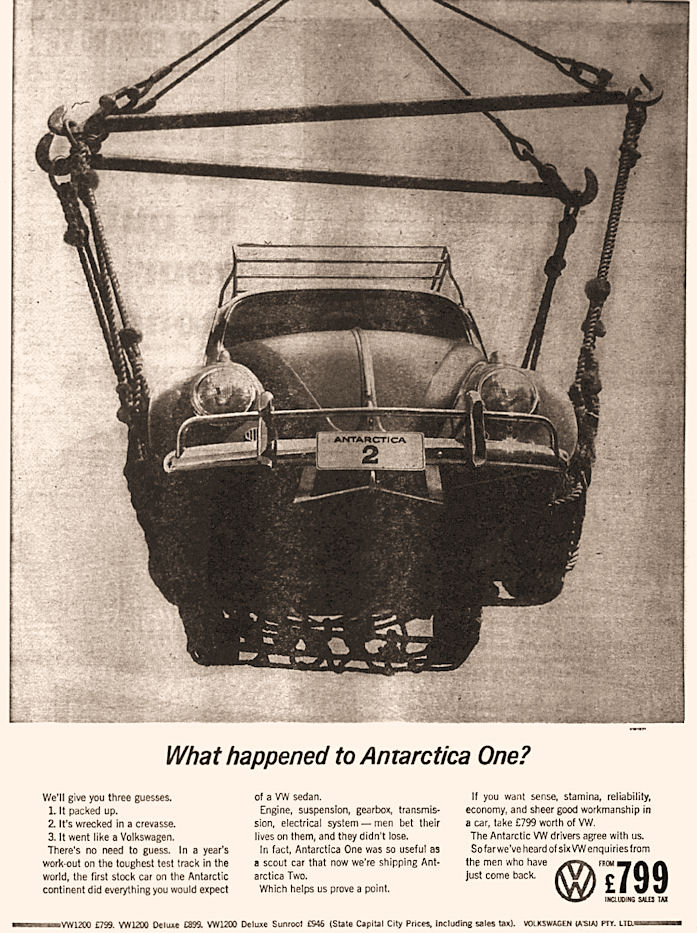 The orange car would have been selected and winterized in late 1963, ready for shipping to Mawson in February. Therefore it was an Australian 1963 model, and looked very similar to the red 1962½ car except for the colour, and having no Wolfsburg crest on the front bonnet. The Australian VW production year began in the February, after the workers returned from the Xmas holidays, so the 1964 changes such as the wider front blinkers and wider rear licence plate light had not yet been included.
We have not been able to discover why Antarctica 2 was specifically painted International Orange, rather than selecting another red Beetle as before. Ruby Red was a factory Australian colour in the early 1960s, albeit an uncommon one for our hot climate. White was by far the most popular choice for buyers (but unsuitable for Antarctica!). Australian Ruby Red came in two slightly different shades - VW 1.2.303 for the Beetle, and a slightly browner VW L456 for the Type 3. International Orange was never a VW paint colour, and in fact VW Australia did not have any orange shades at all until Signal Orange became available in 1971. It must have been especially chosen, either by ANARE or by Volkswagen Australasia Ltd, and applied as a 'one-off' special. In line with the rest of the Australian production, the body colour continued on the wheel rims, with cream centres and chrome hubcaps with black painted 'VW' symbols.
The orange 1963 car had the same winterising modifications as the earlier red car, as well as a similar tow bar, sump guard and roof rack. Being a special 'one-off' construction from the painted body stage, Volkswagen Australasia was also able to add extra insulation in-bettween the interior panels and the metal body. It also had the benefit of an Australian flag, painted on each side under the rear side windows.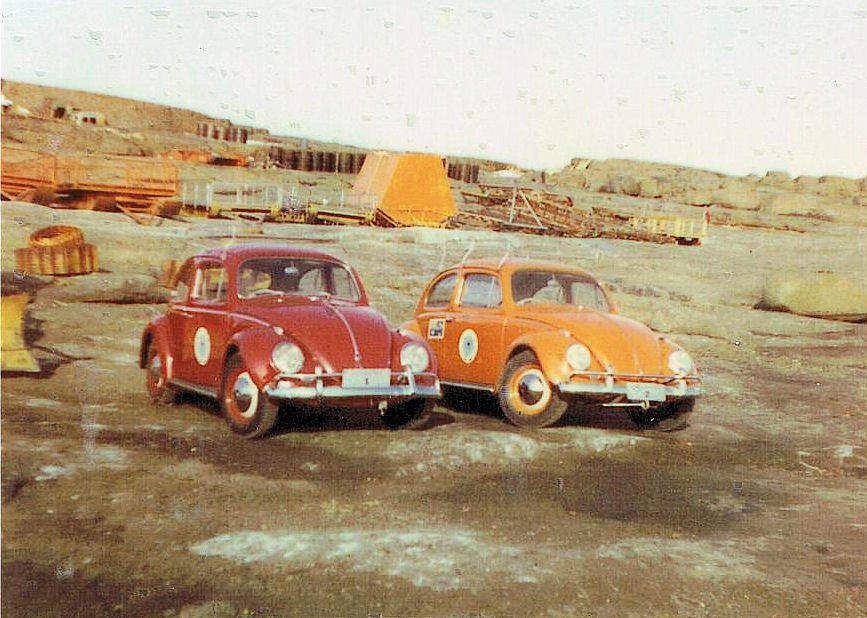 After less than a year of service, the orange car was compromised when blizzard-driven snow drifts managed to enter the crankcase. The VW had been parked outside during a storm that lasted several days. Attempts to run the engine afterwards resulted in oil starvation and damage to the bearings, rendering the VW unserviceable. The car had to be abandoned where it had stopped, and it spent the winter buried in snow. It was not uncovered and towed out until the spring, and then dragged back to the Mawson workshops. Even the car's interior was full of snow, now frozen solid. The workshop did not have the VW spare parts to rebuild the engine, so they sent the message back to Melbourne that the VW was badly damaged and not repairable unless a replacement motor was shipped down in the summer. This news was passed onto Volkswagen Australasia in Clayton, who advised to return the car in its entirety. They would work out a better winterising procedure and send a replacement when one was available.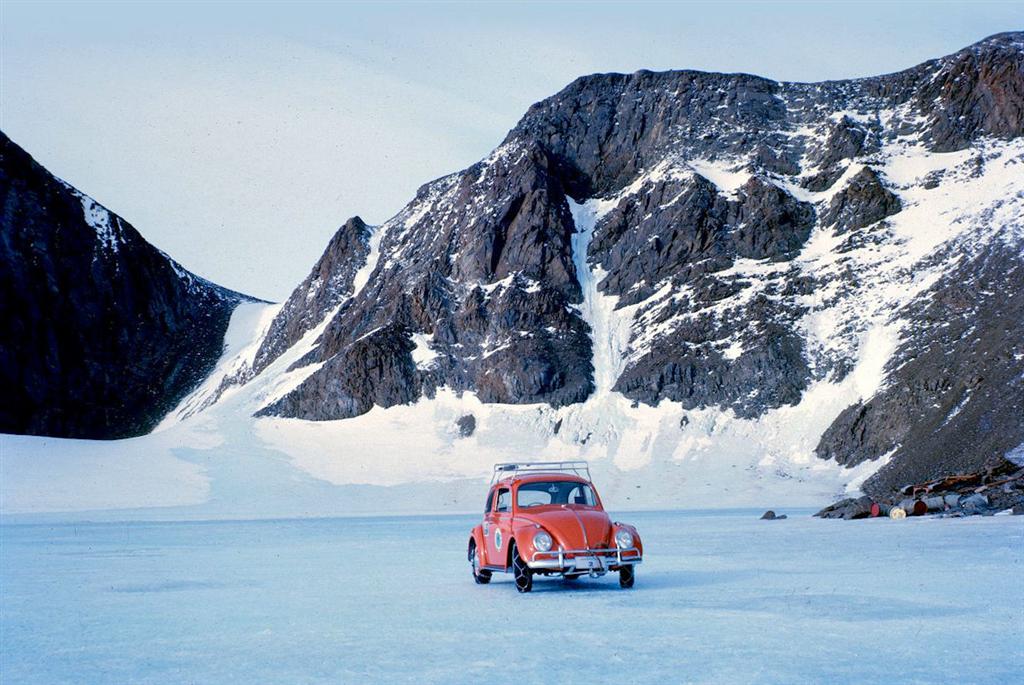 The Nella Dan returned to Mawson in February 1965, when the broken orange Antarctica 2 was loaded on board and returned to Australia. Apart from its seized engine it was in very good condition, with minimal mileage on the speedo. It was returned to the Clayton Workshops in Melbourne, where it was de-winterized, and partially disassembled for study. At the same time a new 1965 model off the production line was selected, painted in identical orange and prepared for Antarctica.
After the workshops had finished with the broken Antarctica 2, VW Australasia sold it at a discounted price to one of their employees at Clayton, a toolmaker named Klaus Peters. He was a young German migrant who had only been in Australia a couple of years, but was into car club motorsport in his spare time. He drove a whitish-grey VW in motorkhanas and rallies with the Light Car Club of Melbourne. Klaus first parked Antarctica 2 at his fiance's parents' house at Dandenong, where her father referred to it as "that piece of orange peel." Klaus repaired the VW and later moved it to his own house at Chadstone. He used Antarctica 2 in club rallies for several years, with his fiancé Genie navigating, and later competed in the BP Rally of Victoria with Genie's brother Peter Battrick navigating (just as the earlier Antarctica 1 had done). Klaus, Peter and Antarctica 2 won the rally, also as Antarctica 1 had done, and they had to visit BP House in St Kilda to receive their trophies. The VW even featured briefly on a Movietone newsreel, shown at local cinemas.
Unfortunately Klaus and Genie went their separate ways in 1969, and Klaus moved back to Germany. He sold a much changed Antarctica 2 before he moved overseas, and Genie eventually lost contact with him after he had moved again, this time to Connecticut in the USA. Genie does not recall now who Antarctica 2 was sold to, except that they may have been a motor sport enthusiast based in Sydney. Klaus now works in IT at the Southern Connecticut State University.
Klaus was working at Clayton at the time, and recalled the workshops working on the replacement Antarctic VW when he bought the broken Antarctica 2.
The replacement orange VW would not have arrived at Mawson until the next visit of the Nella Dan, which would have been February 1966. The replacement vehicle was unloaded, another International Orange Volkswagen, but this time without any identifying number plates. It was an Australian 1965 model, outwardly identical to the 1963 model it was replacing except for having roll-top front seats and a flat-folding rear seat, and the wider front blinkers and licence plate light. Australian 1965 models did not have the big window body shell of the Euro '65 models.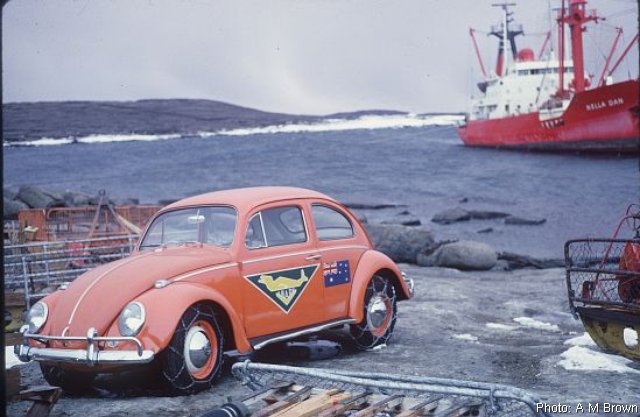 The replacement vehicle also had an Australian flag decal on the side panels, but the door logos were different. The round ANARE logo was no more, replaced by a triangular design featuring a seal (this design is still used today by the ANARE club, the social group for former ANARE staff). The new door logo allows easy identification between the two orange VWs in photos. The replacement VW had no roof rack, unlike the earlier Antarctica 1 and 2.
This somewhat covert swap of two almost identical orange VWs is the reason for some considerable confusion and contradiction today over whether there really was an 'Antarctica 3'. Officially there was not, as the replacement orange VW was still referred to as 'Antarctica 2'. The broken VW had already had its 'ANTARCTICA 2' plates souvenired before it was loaded, and the replacement VW never had them fitted, so apart from the side logo and no roof rack, they looked to be the same. Volkswagen Australasia would have been reluctant to reveal that Antarctica 2 was being replaced because of a non-working engine. But from here we'll refer to Antarctica 2 and Antarctica 3 to keep them separate.
After a year without a VW on the base, Antarctica 3 was worked harder than the first two cars. It had additional sealing in the engine bay to help cope with being left outdoors in blizzard conditions. The novelty of having a VW on the base had worn off, and it was just another work vehicle that was barely mentioned in reports except to say that it was "useful" and "ran well all year." Volkswagen ads no longer made any mention of the Antarctic VWs. Rather, in 1966 VWA's promotion was all about the new 50-bhp 1300cc Beetle, albeit still with the 1961-62 body shell.
Antarctica 3 gave no major problems, despite receiving quite a battering over its longer period of service and several Antarctic winters. The snow chains, for example, are reported to have flogged the mudguards to within a micron of their lives. The Mawson workshops were able to stock a supply of VW spare parts for service and repair, and of course the engineers were handy with the welder by this time.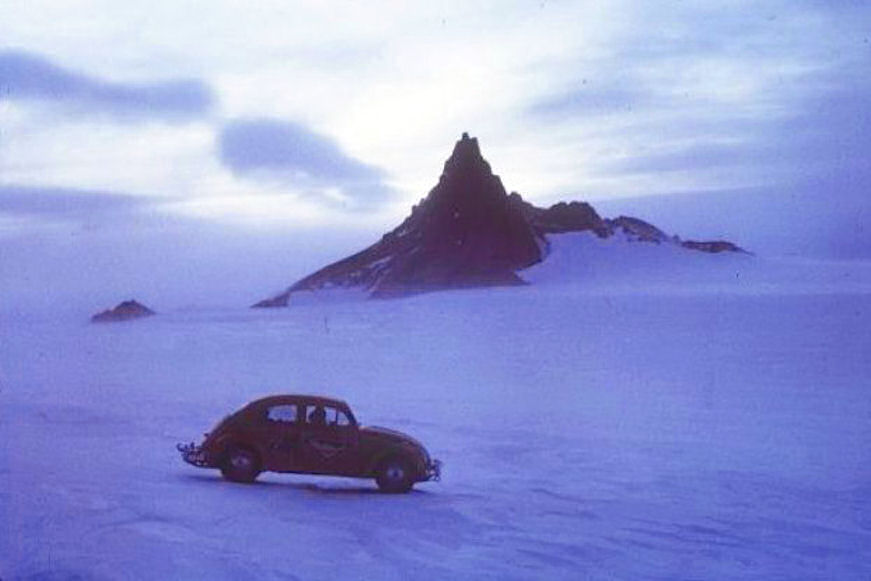 In early 1969 Antarctica 3 was witness to some excitement at the Rumdoodle airstrip. The Russians occasionally visited, usually flying their Lisunov Li-2, a ski-mounted license-built version of the DC3.
The Li-2 had arrived in December 1968 to lay a fuel dump, as at that time Mawson was regularly used as a refuelling / rest stop between the two Russian Antarctic bases Mirny and Molodyezhnaya. The Russians completed their work, but when taxiing down the Rumdoodle graded ice runway a strong gust of wind caught the plane and blew it into a crevasse, damaging the landing gear. The starboard wing and propeller were also damaged.
The Russian crew were collected the following day by two planes which flew in from Molodyezhnaya, but the damaged plane remained where it was. A few weeks later when the weather cleared, the plane was securely tied down by the tail and two wing tips by an engineering party from Mawson, hopefully to stop the strong winds moving the aircraft and damaging it further.
The region soon did have several blizzards, which the aircraft survived, but on 8-9 April there was a major blow with gusts to 123 knots (230 km/h), which destroyed it. Basically, it tried to fly; the fuselage broke into two near the tail, and the body of the aircraft flipped onto its back, rotating about the wing tie downs. Initially all the deadmen and tie downs remained in place, although it may later have been moved downwind.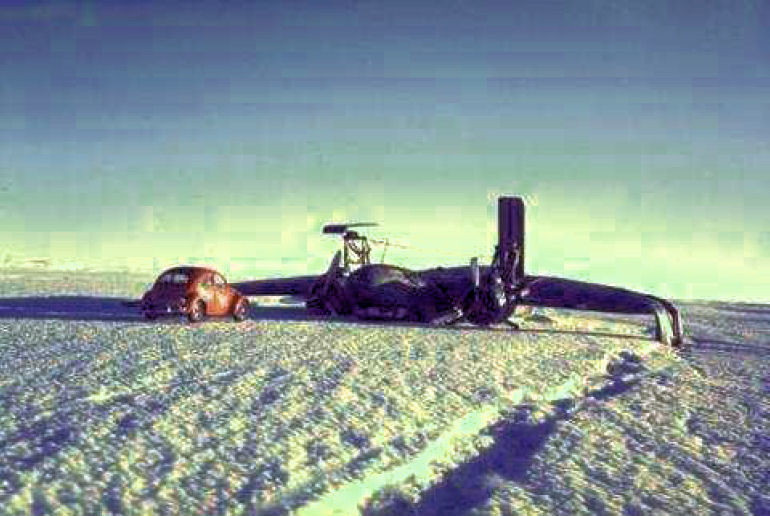 Australian scientist Ian Allison and mechanic Ken Withers drove up to the Rumdoodle strip in Antarctica 3 a few days later to inspect and document the damage. Ken Withers took the photo, which was taken between 10 and 12 April 1969. This was long after the last Mawson resupply ship for the year had gone, so that establishes that Antarctica 3 must have remained at Mawson until the following summer, around February 1970, before finally being shipped home.
When Antarctica 3's working life was deemed over and it was finally returned to Australia in 1970, the Melbourne VW structure was very different. The Clayton VW manufacturing plant was no more, being converted purely to an assembly shop for Nissan, Volvo and VW CKD kits. The sales company called Volkswagen Australia was now a division of LNC Industries in Sydney, who were therefore the technical owners of Antarctica 3.
Nonetheless, it went on a promotional tour of Volkswagen dealerships in Victoria, as Antarctica 1 had done six years earlier. One of those outlets was Smiths of Ringwood, Melbourne, where the then sales manager, Kevin Edwards, remembers the Whitehorse Road showroom was particularly suitable for such a role. Antarctica 3 remained on dealer display for several years, but times were moving on and the worn out orange car was quickly forgotten. At some stage it was moved up to the Sydney head office in North Ryde.
In 1972, Volkswagen Australia offered the now fairly derelict Antarctica 3 to Sydney VW dealer and race driver Chris Heyer, who was competing in the Firestone Rallycross series at Catalina Park at Katoomba. Chris stripped the car, rebuilt the mechanicals and converted it to a dirt motorsport vehicle. With sponsorship from the Manly Volkswagen Centre, he entered it as number 51 in the Rallycross series in 1972 and 1973. It was unrecognisable as the former Antarctica 3, and until recently most VW people didn't even know it was. At the beginning of 1974 it was sold to fellow Rallycross driver Ed Mulligan who raced it briefly that year. The Catalina Rallycross series ended shortly after and the former Antarctica 3, being extremely ratty by that stage, probably ended its days at the rubbish tip soon after that.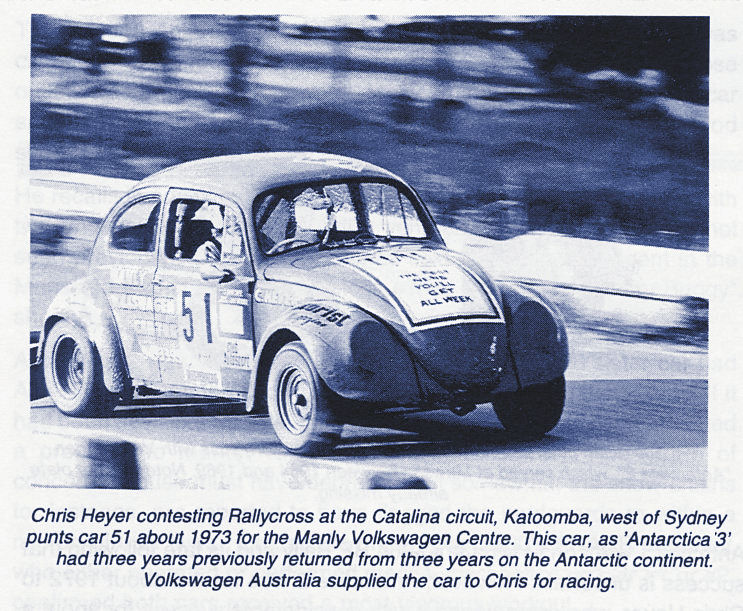 Below is a cover painting from an Australian motorsport magazine of the time, Racing Car News from May 1973. "Colourful though Catalina Rallycross has always been, it has taken on a new hue lately with the hot competition for outright honours by the Volkswagen drivers competing," said the magazine introduction. "Our cover artist this month is John McLennon, and a good job he has done too from photo reference by Bruce Blackley. As close as Barry Ferguson and Peter Mill are in this fine painting, they, and Chris Heyer shortly behind, sometimes get even closer at Catalina and are always worth watching." You can clearly see that Chris Heyer's VW was Antarctic orange.
Number Plates and model
Graham Vickery from Frankston, near Melbourne, owns a number plate he believes is an original from the original 1962½ VW Antarctica 1. He has promoted it on the world market, particularly in the United States, where he was offering it for $5000 through various enthusiast car magazines.
Graham 'inherited' the curio in the late 1970s from a friend, who claimed some kind of direct association with Antarctica 1 sometime after it was returned to Australia in 1964. Only in recent times has Graham decided to exploit the plate's value as a collectable. He believes the 'Antarctica 1' licence plate to be authentic, but agreed that it would be difficult to establish conclusively. It is made of aluminium sheet rather than steel, just as the real plates were.
On examining photos of Graham's plate and comparing them with original early 1960s shots of Antarctica 1, it looks like the plate now has a few extra mounting holes but that could be the result of previous unsympathetic owners. His plate has a black numeral '1' on a white background, with a black pinstripe outline, exactly like that shown on original photographs. The plate is faded, as might be expected if it is genuine, but it is in good, straight condition. Some Volkswagen factory publicity shots and advertisements do show the plate as white on black, but that was simply a more graphic effect for newspaper appearances.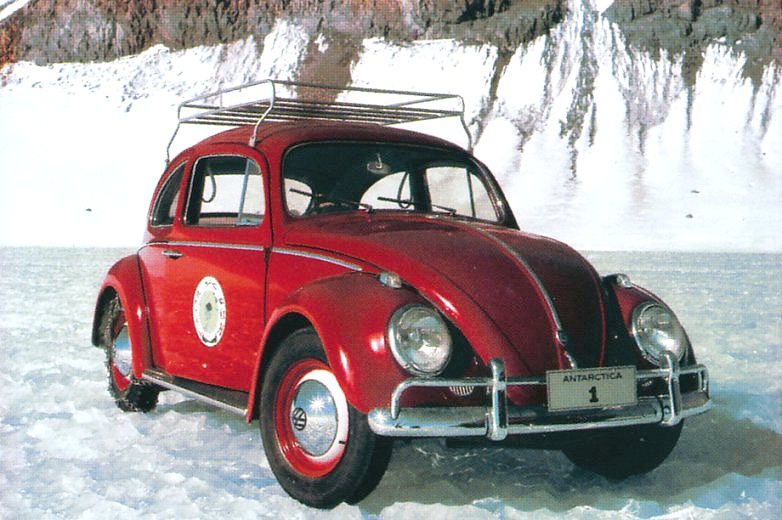 When asked why he only has the one 'Antarctica 1' licence plate, when the car originally had a pair of them fitted, Graham replied that the previous owner had indeed had two of them but had deliberately destroyed one to make the survivor more valuable! It may very well be that Graham owns the genuine article but suspiciously there were a number of specimens that turned up in auctions in the late 1960 and early 1970s. Locally-made replicas are certainly out there, and some old VW dealers can vaguely remember them being on sale at the time of Antarctica 1's promotion.
Ray McMahon has always ben suspicious of stories of people claiming to have the original plates, as he has not been able to view them in person to verify it being the real thing. The number '1' pressed into the plate is the key to authenticity. It was a unique font that had a very long and 'out-of-proportion' serif bar on the bottom of the upright digit. Bill and Steve presented Ray with an indentical plate to the one on the 2002 replica's plate, and the '1' is different.
A certified genuine 'Antarctica 2' licence plate IS known to exist in the possession of Professor Gunter Weller, a glaciologist at the University of Alaska, Fairbanks. Gunter was part of the 1965 ANARE Expedition to the Antarctic, and used the orange VW for transportation during the year when he travelled regularly to his scientific station at GWAM, behind the Mawson base. He had also been on an earlier Expedition in 1961.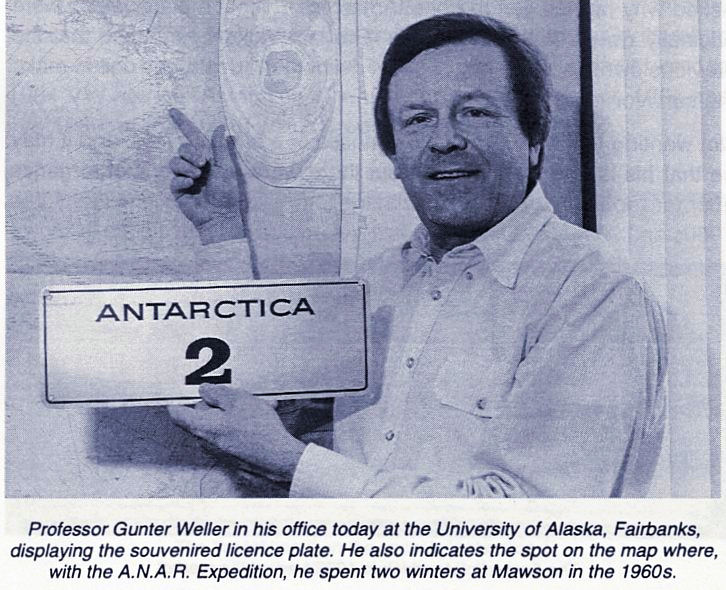 Just before the broken Antarctica 2 was shipped home in 1965, he 'souvenired' the licence plate from the engine lid and today it sits on the wall of his office at the University of Alaska. Antarctica 2 came home with no licence plates, as Gunter says the front plate had already been souvenired by someone else. The current location of this other plate is unknown. The replacement VW, Antarctica 3, carried no licence plates during its time at Mawson from its delivery in 1966 up to its return in 1970.
After the Antarctica 1 replica was received at the Wolfsburg museum in 2003, Volkswagen Lifestyle commissioned a 1:43 scale model as part of its Volkswagen Classic Collection. Like most of the range, this highly detailed model was only available in Germany, or on-line purchase to German customers.
The model Antarctica 1 is notable for its Ruby Red colour and careful reproduction of its distinctive roof rack, towbar, vent cover, ANARE labels and 'Antarctica 1' plates. It even came with a little penguin! Most significantly, the model is the correct right-hand-drive, an extremely unusual thing for a European model car.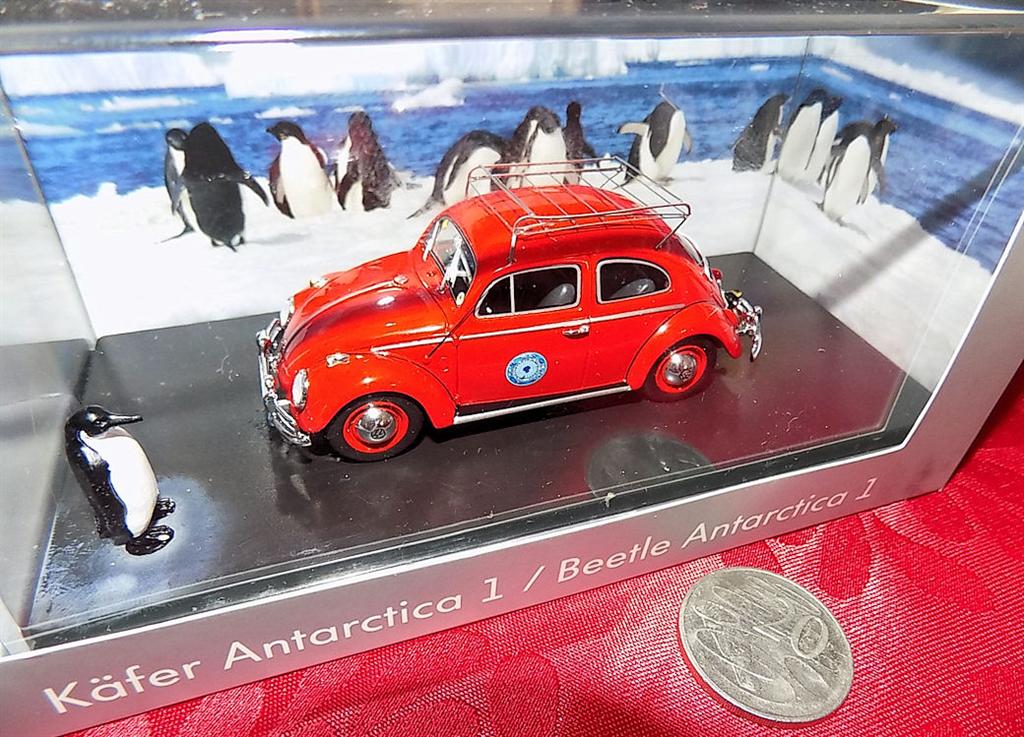 Ray McMahon and his wife Sandra first spotted the model in a shop window in Vienna when they were on holidays in Austria in 2014. Ray felt he just had to have it, but unfortunately it was a Friday afternoon and the model shop was closed. He had to leave Vienna next day and missed out; he and Sandra never saw another shop with that model on the rest of their Europe trip.
After his wonderful assistance with this article, Ray mentioned the model to me and wondered if Club VW Sydney could assist him locating one? We were familiar with the model, as our secretary Norm Elias had bought one in Europe himself and it was featured in the May 2014 issue of Zeitschrift. We both felt that no-one in the world deserved a model of Antarctica 1 more than Ray McMahon, the man who actually chose it and took it to Antarctica!
Norm was able to souce another model from Germany, and it was with great pleasure that we were able to fly to Melbourne in April 2015 and present Ray McMahon with the model of Antarctica 1. We also presented Ray with period Antarctica 1 VW literature and a DVD of the period VW films, but the model was his favourite and took pride of place on his shelf.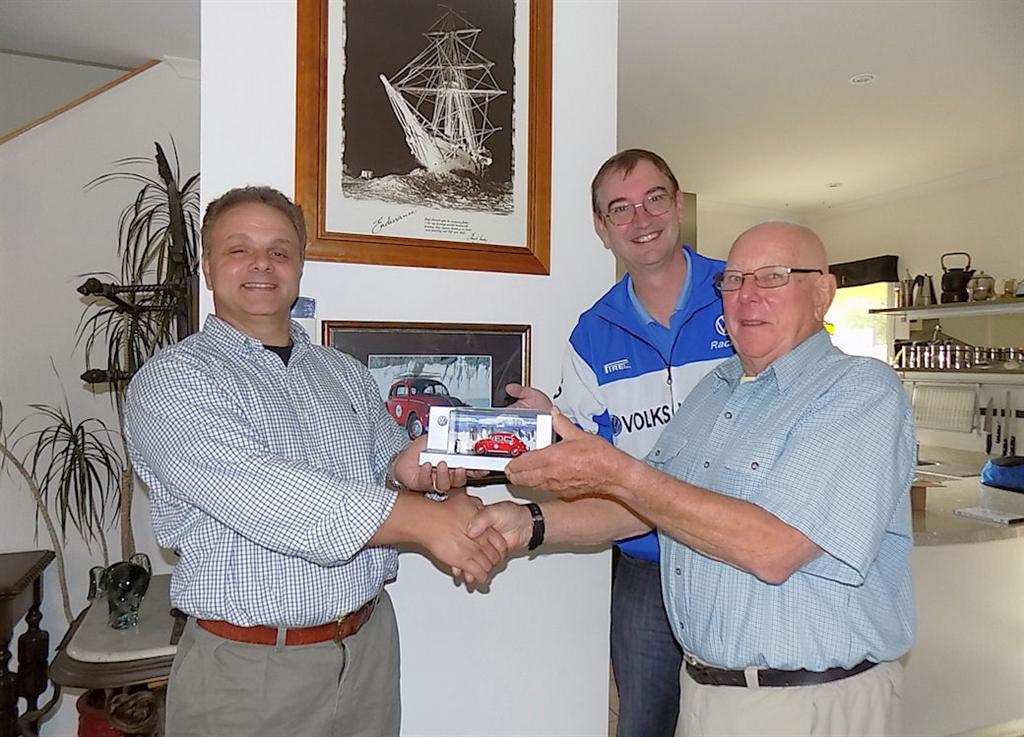 Here Club VW Sydney secretary Norm Elias and editor Phil Matthews present Ray McMahon with the model of Antarctica 1. We thank Ray and Sandra for their hospitality.
Antarctica 4¼
While Antarctica 1 and 2 (and 3) were the only 'official' Volkswagens to visit the frozen continent, at least two others have turned up at Mawson. Until 1980 or so, when environmental protection laws were toughened, ANARE personnel heading for a year at the base were not discouraged from taking their own personal transportation with them, with motorcycles being especially popular. Dave McCormack's VW-based off-road buggy has been at Mawson since 1978, and was overhauled in 1990 when it was converted from four seats to two.
West-Australian ANARE Atmospheric Scientist Mark Forecast had been on the 1964 Expedition, so he had already seen first-hand just how useful a VW Beetle was in one of the most hostile places on earth. When he voyaged south again with the 1967 Expedition, he shipped down his own 1957 oval-window Beetle among his personal effects. Mark had rescued the car from a wrecking yard with help of his panel beater brother-in-law when he lived in Melbourne. The VW had been in an accident with the rear of a truck, and had lost most of its roof.
By the time the patched-up oval was unloaded at Mawson in January 1967 the rules for Commonwealth vehicles had been tightened, as the dangers of unreliable sea ice were better understood. But the regulations did not apply to private vehicles then, so Mark could still please himself. On arrival at Mawson, Mark christened his VW 'Antarctica 4¼' and used the decrepit VW for transport around the base and surrounds just as the others were doing with the official Antarctica 2/3 at the same time. It too suffered from the dreaded frame-head cracking, and Mark would use the Mawson mechanical workshops to oxy-weld the repairs.
The ANARE scientists like Mark were often daredevils and serious professionals at the same time. Mark had a great sense of adventure and he lived through some fantastic adventures. Probably the most incredible was the day in September 1967 when Antarctica 4¼ was lost at sea in a truly illustrious incident, and Mark and his passenger were lucky to escape with their lives.
Mark and fellow scientist Ian Thomas (now Dr Ian Thomas, specialist in atmospheric physics in England) set out in the '57 oval on a journey of some 20 km from the Mawson base to the area around the Forbes Glacier inlet. Temperatures were down to –25 deg C during the day. Mark remembers they had been to the vicinity of some ice caves, taking photographs and recording signs of returning Antarctic petrels, and they drove along the sea ice for some distance.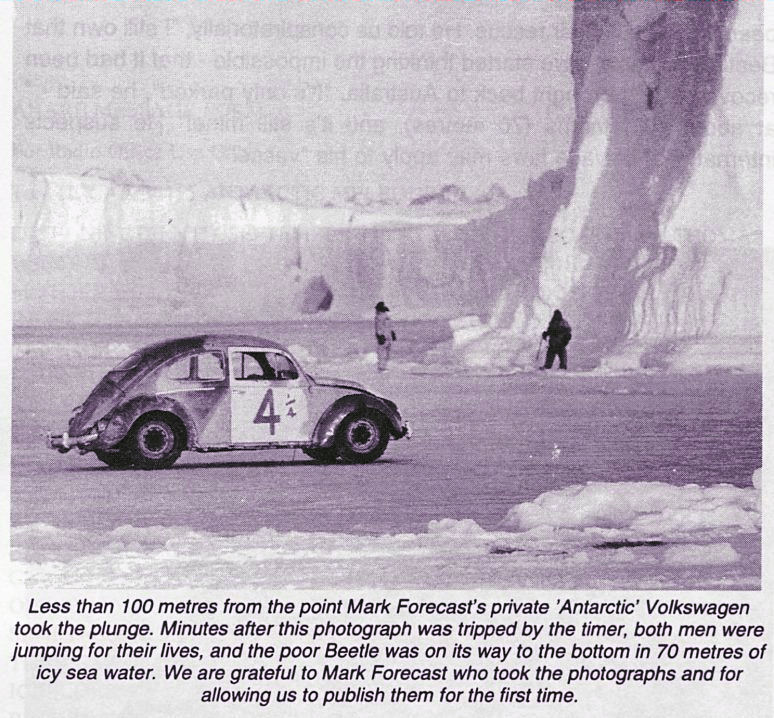 The sea ice was some four or five feet thick and mostly stable for a wide radius around the Mawson base, but became unstable where the glacier tongue jutted into the frozen sea. The men stopped the oval VW three times to check the thickness of the ice with an ice axe, but at one point came with a hundred metres of the glacier tongue. Too close! They were in a small patch of new ice covering a pool between the floes, and the VW suddenly broke through the ice with a crack. Mark and Ian were suddenly in serious strife. The VW was floating, as good VWs do, but was taking on water quickly.
They gave rapid thought to kicking out the windscreen, which they could normally have done from their seats except that their protective clothing gave them the profile of the Michelin Man, and they would not have fitted through the gap. Mark remembered one thing he always intended doing (but never did) was cutting an escape hatch in the roof, since of course the oval with its patched wrecking yard roof was certainly not a factory sunroof model.
With only a few moments to respond as the VW wallowed in broken ice and deep water, Mark realised he could not open the driver's door as it was jammed by a stray slab of ice. This left only the passenger's door, which Ian had to exit first, up onto the ice shelf. This he did with a splash or three, and very close behind with the seawater now pouring in, Mark climbed ashore as the VW's roof settled level with the ice floe. His final foothold was the roof gutter. He estimated his VW took about 30 seconds to sink after opening the door, and realised that any back seat passenger would have exited only with some difficulty. They managed to rescue only the binoculars around their necks, and one camera. The danger was not yet over as the ice floe was moving and pieces were falling off the glacier, so they quickly ran a hundred metres or so to safer ground.
They noticed the floe had been flung up where the VW had disappeared, then they turned and began walking back to base. Mark remembered that the VW had broken through the ice at the rear first, and it had felt like the car was pivoting nose up on a large piece of floe. Sections of the flagging had been churning about like chocolate from a frozen confection as the car levelled out in its original floating position.
As they walked they were thankful that the weather conditions were nearly perfect. A more typical Antarctic day with 50 km/h winds would have created a much more risky situation with regard to hypothermia. When the two men had walked to within 7 km of Mawson they were met by Eddie Lawson and Kevin Reiffle on a Polaris and sled. They had been sent out to look for the two men when they became overdue. Mark and Ian were driven safely back to Mawson in fine warm moonlight and were glad to reach the safety of the base at 8pm. Their survival gear, food, tent, sleeping bags, ice axes and crampons had all been in the back of the VW and was lost, but Mark emphasises that the route he drove had been carefully planned and detailed beforehand. No risks were taken that could have endangered his team or others who might have been involved in their rescue.
They were in good condition, considering their ordeal, but went straight to the fuel stove in the mechanical workshop to thaw out. For an hour they crouched in the warmth, helped by shots of rum and finally a warm shower to restore feelings of normality.
Mark confided that he still owns the Beetle, although it had certainly not been recovered and brought back to Australia. "It's only parked," he said, "in about 40 fathoms (70 metres) of water, and it's still mine!" He suspects that international salvage laws may apply to his 'vessel'.
Thank you to Ray McMahon, Ian Allison, Mark Forecast, David Dodd and all the other wonderful men from the ANARE expeditions who happily passed on their experiences.